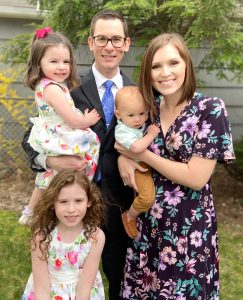 Pastor Luke Beattie joined Main Street Baptist Church as its fifteenth pastor.  Luke, originally a native of Wyalusing, PA, came to us after serving as interim minister at a similarly sized Baptist Church, in Perry, FL.  Luke received his M. Div. from Southern Baptist Theological Seminary and is delighted to be doing God's work in his (almost) hometown of Binghamton.  Luke's self stated mission is straightforward and crucial: "To carry the good news that Jesus saves sinners.  To help bring his saints to maturity in Christ through the preaching and teaching of the Word of God.  To shepherd his people in love, through the difficulties of this life using the wisdom and counsel of the Bible."  Luke and his wife, Jennifer have three beautiful children, Naomi, Eliza, and John.
William James Lawson, Organist
William James Lawson teaches organ at Binghamton University, where he also coaches and accompanies singers,
performs as a collaborative pianist, and is an accompanist for the choral program. Active as a church musician from the
age of fifteen, he has served congregations in the Southern Tier, New York City, and Pittsburgh. He is the founder and
Director of the Canterbury Choir.
Our Deacons
The Board of Deacons is currently composed of nine members, including the Chairman. The Board is responsible for maintaining contact with the church members; each Deacon having a Parish Plan that assigns members and families to him.
Our church charges its Deacons with promoting the spiritual and physical well-being of our membership, and to encourage regular attendance on Sunday and at Bible Studies during the week. The Deacons also provide their members with help in tangible ways, and visit them when they are in need. In this way, the Deacons provide support to Pastor Beattie by keeping him apprised of any issues our members are dealing with. 
Our Deacons are also responsible for the monthly preparation and observance of Holy Communion. The Deacons interview candidates for membership and make recommendations for their acceptance to the overall congregation. The Deacons are also responsible for the production of the Sunday Service, including its streaming broadcast over the world wide web.